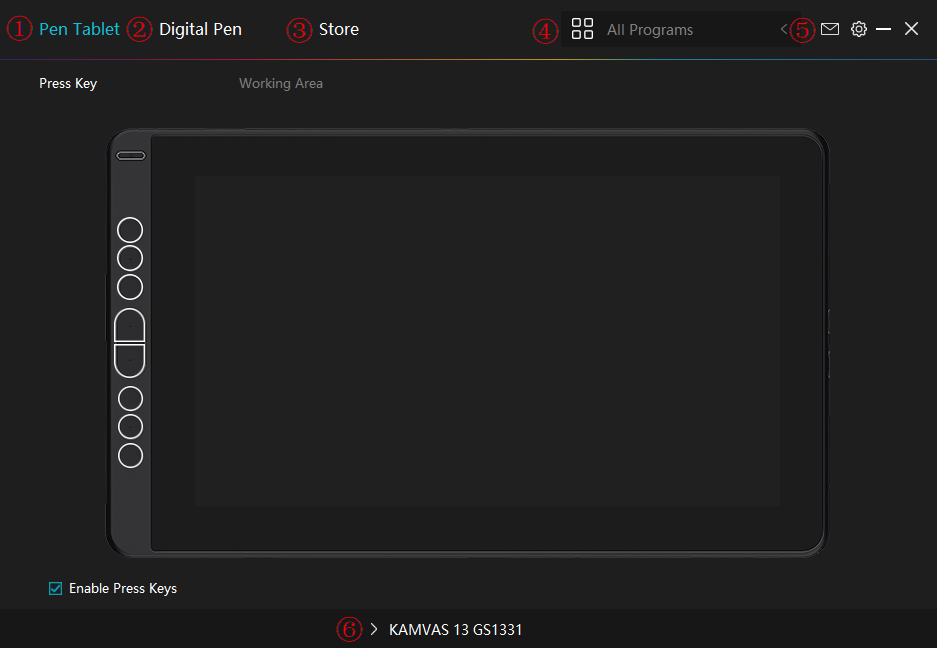 1. Pen Tablet
Pen Tablet function setting interface, the users can set the device function on this interface, such as Press Key, Working Area.
2. Digital Pen
The users can set the Pen function on this interface. About Press Key, Mode selection, Pressure Sensitivity Adjustment and Pressure Test.
3. Store
Huion Store, where you can get the latest information about the product such as its FAQ or sales promotion. Additionally, you can also purchase other products or accessories on Huion Store.


4. Add Programs
You can customize different functions on the current device for different programs.
When select All programs, the setting of the device is valid for every program.
By clicking Add a Program from the drop-down list, you can set the functions for a specific program and hence have unique settings for different programs. After that, when launching a specific program, the Driver will automatically recognize it and the setting features will change to its corresponding one.


5. Setting
The users can set the Driver function on this interface. About Device Information, Backup Setting, General Setting and Driver Update.
6. Switch between Devices
Driver can support the connection to two digital drawing devices at the same time. When these devices are sharing the same Driver with the current device, users can customize the settings of the devices by switching the Driver interface to the corresponding one.